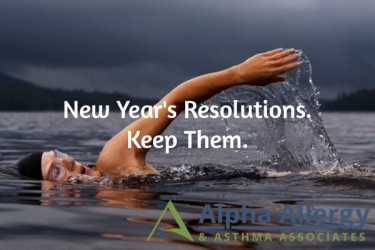 Happy New Year!
I hope you had a restful and nourishing holiday break and feel recharged and ready to live your best life in 2016. I recognize that the holidays often bring unique challenges for members of our local community living with asthma or allergies.
Although the holidays are often imagined to be a time of rest and relaxation, many people find that the reality is often far from it.
With all that said, I hope you had a stress-free and relaxing holiday. Now that we've rolled into the New Year, you've probably had a few thoughts about some changes you want to make, goals you want to accomplish, or things you want to do differently in 2016.
---
2016 New Year's Resolutions

---
Approximately 45% of Americans make New Year's resolutions. Unfortunately, a significant portion of us fail to keep to our resolutions. A 1988-89 research study on New Year's Resolutions led by Dr. John Norcross at the University of Scranton found that 22% of resolvers (people who made resolutions) failed to keep their resolutions past the 1-week mark! Apparently, when the excitement (euphoria?) of the New Year season wears off, it becomes a struggle to keep up with these commitments.
However, it's likely still worth your effort to set yourself a new year's resolution.  A larger study, conducted a few years later by Dr. Norcross compared "New Year's Resolvers" with "Nonresolvers" interested in changing a particular problem. They found that after six months, 46% of resolvers were continuously successful, compared to 4% of the nonresolvers.
---
Setting (And Reaching) Your Goals For Optimal Health

---
Among the most common New Year Goals are those having to do with reaching optimal health outcomes through diet, exercise and general fitness activities. The thrill of setting – and accomplishing – these goals can be complicated further by the challenge of allergy and asthma.
Having to avoid or deal with asthma triggers (while exercising for instance), or the challenge of planning your cuisine to avoid food allergy triggers, can put a damper on your efforts to meet your new year health goals.
Here are a few tips for successfully accomplishing your health resolutions in 2016:
What's the most fun New Year's Resolution you've set for yourself for 2016?
Tell us about it on our Facebook page.