Planning springtime activities in Washington DC or surrounding suburbs? One of the joys of spring season in our area is the smorgasbord of sights, activities, tours and destinations available.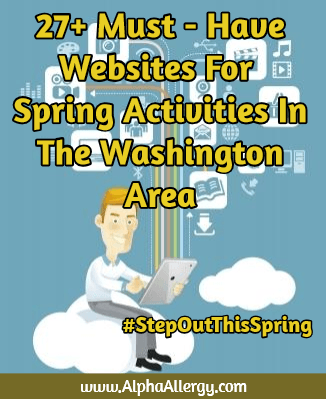 The options are seemingly endless. After the chill of winter, outdoor activities are particularly attractive. We've compiled a list of 27+ website resources to help you get the most fun out of the spring season. These websites will help you take our advice to "Step Out This Spring".
---
VisitMontgomery.com –  The "Visit Montgomery" website has the stated aim to "to enthusiastically promote, market and sell Montgomery County, Maryland as a destination for meetings, conventions and individual travelers …". It is a tremendous resource for learning about events, dining choices, as well as entertainment destinations in Montgomery County and in the District of Columbia.


---

MontgomeryParks.Org – This is the official website portal for the Montgomery County Department of Parks. Here you can get information about making park & facility reservations, and learn about upcoming events. Whether you'd like to know about camps, visit one of the counties gardens or conservatories, or just find the nearest site for a quiet weekend hike in a Montgomery county park or trail, this is the website for you. You can https://apm.activecommunities.com/montgomerycounty/Home


---

SilverSpringDowntown.com – For dining, shopping and entertainment options closer to home, consider the downtown Silver Spring district (just a few minutes south from our Silver Spring clinic along Rt. 29).


---

National Cherry Blossom Festival – Nothing says "Springtime In Washington" like the annual Cherry Blossom Festival held in Washington DC every spring. Over 1.5 million people are expected to enjoy the sights over the five weekend duration of the festival. In addition to the "bloom watching" along the tidal basin, there are a host of events tied to the festival. These include the opening ceremony, the kite festival, the parade, and much much more.


---

National Harbor, Maryland – Located in Prince Georges County, Maryland, the national harbor is a premier destinations for family fun in the D.C. metro area. Outdoor lovers will appreciate the access to waterfront activities. Families will also enjoy the "Capital Wheel", the "Carousel" and access to the park. Be sure to check out options of DC boat cruises leaving from the harbor.


---

National Mall and Memorial Parks – The national mall and the iconic monuments and picturesque parks that dot the area, are some of the most popular tourist destinations in the world. Spring time revelers can take a tour of the cherry blossoms around the tidal basin during their peak bloom.  This website is the primary place for planning your visits and activities to the parks.


---

National Zoo – This 163-acre zoo is part of The Smithsonian Institution and home to over 400 species of animals. An estimated two million visitors per year visit the zoo. The National zoo is a great way to spend is a great way to spend a beautiful spring day outdoors with your family.


---

Washington.Org – A tremendous informational resource that refers to itself as "D.C.'s Official Travel Website", contains links to attractions, event calendars, maps, hotel listings, and other information to help you eat, shop, play, and otherwise relax in the nation's capital.


---

The Smithsonian Institution – This is the official site of the Smithsonian Institution which is the largest museum and research complex of its kind in the world. The Smithsonian includes over 18 museums and galleries, as well as the national zoo.


---

CulturalTourismDC.org –  Tours and programs unique to the culture of Washington DC make this website a must-visit. From programs like "Passport DC"  and the "Around The World Embassy Tour", to the African American heritage trails, this unique website is a must-have resource for planning your spring and summer activities in Washington DC.


---

The United States National Arboretum – The website for the U.S. national arboretum. An arboretum is a botanical garden (or in this case a park) for the special collection, cultivation and display of a wide variety of trees and shrubs. The U.S. national arboretum is one of the largest of its kind. It covers 446 acres, just 2 miles from the U.S. Capitol, and contains many gardens and special collections, as well as the famous "National Capitol Columns" one of the most popular features of the park.


---

Friends of the Georgetown Waterfront Park – The Georgetown waterfront is one of the most delightful outdoor spaces in Washington D.C. The park hugs 10 acres of waterfront land. It's a great option for taking a leisurely nature walk, fountain splashing or for rowing / kayaking in the Potomac. For more Georgetown activities you should also check out The Washington Harbor and GeorgetownDC.


---

Rock Creek Park – A listing of resources for outdoor and spring activities wouldn't be complete without a mention of Rock Creek Park. Rock Creek Park is a large park that bisects Northwest Washington DC. It covers 1,754 acres and was established by an act of congress in 1890. There are picnic areas, horse trails, bicycle paths, a tennis center, a planetarium, and amphitheater. You can take advantage of cellphone tours, or ranger-led programs and tours. Also, take a moment to check out the important work of advocacy done by the Rock Creek Conservancy.


---

Brookside Gardens  – This is the website for Brookside Gardens. Brookside Gardens is a 50 acre public display garden in Montgomery County made up of several garden areas. There are two conservatories and admission is free. Nothing says "Spring is here" quite like the Spring Display at the Brookside Gardens conservatories. Pets are not allowed in Brookside Gardens, but service animals are. SPRING @ Brookside | January 16 – Sunday, April 10 , 2016.


---

Washington Walks – Why should the tourists have all the fun? Take advantage of these amazing set of guided walking tours from Washington Walks. You have the option of group tours or private walks. Kids 3 or younger are free, otherwise it's $20 per person.


---

Wolf Trap National Park For The Performing Arts (Vienna, VA) – The website for Wolf trap National Park For The Performing Arts. Wolf Trap is located on 117 acres in Northern Virginia, and hosts over 100 performances every summer. The park offers year-round recreational opportunities including hiking trails, picnic areas and more.


---

Fairfax County, VA Nature Parks – The "Things To Do" section of a website focused on the promoting Fairfax County, Virginia. Here you can get information about Fairfax county's parks and attractions (like the 888 acre Burke Lake Park), and much more. Check out this excerpt describing an area within Bull Run Regional Park: "In springtime, acres of bluebells and other wildflowers bloom beside a picturesque, meandering stream." Enough said.


---

VisitPrinceGeorges.com – "Visit Prince Georges" is a large online portal for information on attractions (National harbor, etc), amenities, and tourist destinations in Prince Georges County, Maryland. The site is provided by the Prince Georges County, Maryland Conference & Visitors Bureau.


---

PGparks.com – The website of the Prince Georges County Department of Parks and Recreation. From rec centers to golf courses, and nearly 7,000 acres of regional stream valley parkland, the department maintains them all. You can find information for activities, art and community events, as well as links to information for all of the county's parks.

---

VisitHowardCounty.com – Visit Howard County is a great website for discovering great events, things to do, and hot attractions in Howard County. Whether you're interested in parks and trails, or outdoor events and festivals, you'll find information you need here at this website.

---

VisitMaryland.Com – Check out the "Uniquely Maryland" section (which has a "Things To Do In Spring" list during this spring season, peruse the "events & festivals" listings, or just click through to the "places to go" section for lots of options to have a great spring and summer – outdoors and indoors. This excellent website is from the folks at the Maryland Office of Tourism Development. Enjoy!

---

DiscoverPwm.com – Located just 30 minutes outside Washington DC, Prince William County is home to the small city of Manassas with its Old Town Historic District, the riverfront town of Occoquan, the Manassas National Battlefield Park, and the 15,000 acre Prince William Forest Park, along with many other outdoor natural and cultural attractions. DiscoverPwm.com is a terrific website for planning your activities there.

---

VisitAlexandriaVA.com – The City of Alexandria is an independent city in the Commonwealth of Virginia. You can spend time walking Old Town Alexandria, enjoying the docks and waterfront, or visiting Mount Vernon (home of George Washington) among other attractions. VisitAlexandriaVA.com is an essential portal for planning your day – whether you're a tourist or a local.


---

StayArlington.com – In Arlington County, you can visit historic places like the Arlington National Cemetary, or bike/run the 100-foot wide, 45 mile long Washington & Old Dominion Trail Railroad Regional Park, or any of the or the weekly (Saturday) Arlington Farmer's Market, among other outdoor springtime activities.


---

NOVAparks.com – This website is sponsored by the Northern Virginia Regional Park Authority, and has useful information on 38+ regional parks, water parks, and golf courses, plus many other useful amenities for your spring outdoor activities.


---

WMATA Trip Planner – The Washington Metro Area Transit Authority "Trip Planner" allows you to plan your movement across the metro area with the Metro's bus and rail connections.


---

DC Circulator –  The DC Circulator is a low cost public transit system consisting of 136 stops along 6 routes, served by a fleet of 67 buses scheduled to arrive at each stop every 10-minutes. For the cost of only $1, DC Circulator provides public transportation to the National Mall, other main D.C. attractions, and local neighborhoods like Adams Morgan, Dupont Circle, Georgetown, that represent hubs of D.C. community, business, culture, and entertainment.
These are just a few of many web resources for discovering and planning spring season activities in Silver Spring, Montgomery County, and the greater Washington DC area. Most of the area's top attractions, destinations, sights, monuments, and natural parks, are within easy reach by car, bus, or rail.
---
Don't Let Allergies Keep You Locked Indoors.
Why Should The Tourists Have ALL THE FUN?

---
Do you hesitate to take full advantage of the DC area lifestyle because of hay fever or seasonal allergy symptoms? Alpha Allergy has been asking locals, "Why let DC tourists have all the fun?"!
We encourage you to be proactive about your allergies, so you can get the most out of springtime activities in Washington DC.
If you need to see a specialist, our Silver Spring allergists are immediately available to help you. You can often set same-day appointments. See Alpha Allergy today for fast, expert, relief from your sneezing, wheezing, itching, and aching.
---
The resource above is part of our "STEP OUT THIS SPRING" community outreach series.

---
Photo Credit: Top image courtesy of Kittisak at FreeDigitalPhotos.net