The Background
---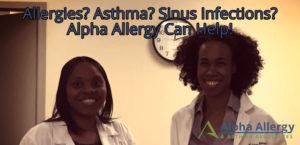 The idea for Alpha Allergy & Asthma Associates was born when two diligent physicians in academic practice realized after some years that they could really combine their love for the clinical, interactive aspects of medicine together with a very specific vision of detail-oriented service excellence.
While working together at the Johns Hopkins University School of Medicine, in the Division of Allergy and Clinical Immunology, Drs. Nkiruka Erekosima and D'Jahna Thomas (formerly Akinyemi) saw allergy, asthma and immunology patients referred from all over the Baltimore-Washington area and beyond.
Both doctors are scientists at heart, and their love of the sciences is reflected in their training. For example, Dr. Erekosima, in addition to her medical school training, decided to get a Master's Degree in Public Health with a concentration in Epidemiology and Bio-statistics, and Dr. Thomas also completed a Master's Degree in Clinical Epidemiology.
Their love of the underlying science was the main reason they both ended up specializing in Allergy & Immunology. It not only contributed to their choice of specialty, but it also motivated their continued involvement in academic medicine. It was part of the reason that they joined the faculty at Johns Hopkins.
---
The Spark
---
After some years working at Hopkins they separately came to the realization that their clinical expertise – combined with the breadth of their academic experience – would be of great value to patients in an intimate, private practice setting.
Dr. Erekosima, then the Associate Clinical Director of the Johns Hopkins Allergy & Clinical Immunology  Division, began to consider the possibility of taking the broader range of services, expertise and resources available in an academic medical center to a community practice setting. She slowly embraced the challenge of developing a service-focused, community practice.
Meanwhile, Dr. Thomas was coming to the conclusion that her love for the people-oriented aspects of the medical profession was something she found stimulating and fulfilling enough to suggest the possibility of a transition to a community practice.
Over time they came to realize that they shared a common vision in this direction.
This was the first spark of what has now become Alpha Allergy & Asthma Associates' 4-Point Diamond Practice Philosophy:
Relief from Allergic, Asthmatic, and Immunologic conditions powered by professional expertise, provider/staff empathy, patient education, and service excellence.
---
The Practice
---
After considering a wide range of locations in the Baltimore–Washington region, our doctors settled on a central location in Fairland / Silver Spring (Northern Montgomery County) within convenient reach of patients in Prince Georges County, Howard County, and Washington DC.
Almost to the very spot on the map where the research showed our practice could be of great value, the doctors settled on our current location:
2415 Musgrove Road # 107
Silver Spring, Maryland 20904
Now we're available to serve patients' needs full-time, 5 days a week, serving patients of all ages (adults and children). In line with our unique Diamond Service Philosophy, the very first training our staff undertook upon joining the practice was to walk-through the "patient's viewpoint" and to experience what our patient experiences. We will continue to maintain this focus on you.
Now you've heard our story.
What's yours?
Do you – or someone you love – suffer with allergies, asthma, or immunologic symptoms?
Call us or contact us today for an appointment. We look forward to seeing you.
Sincerely,
The Team at Alpha Allergy & Asthma Associates.
Save