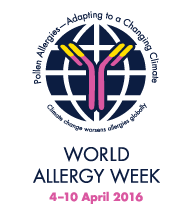 The World Allergy Organization (WAO), an international umbrella organization whose members consist of 97 regional and national allergology (allergy) and clinical immunology societies from around the world, marked "World Allergy Week 2016" from April 4th to April 10th, 2016.
What is World Allergy Week?
World Allergy Week is an annual initiative of the World Allergy Organization (WAO), together with its Member Societies, to raise awareness of allergic disease and related disorders and advocate for the provision of training and resources in the diagnosis, management, and prevention of these diseases and asthma, which are rising in prevalence around the world.
This year's theme: "Pollen Allergies –
Adapting to a Changing Climate"
In a webinar held during the World Allergy Week, experts from around the world presented current understanding and insights about pollen allergies, how changes in climate might affect pollen seasons, and the intensity of aeroallergen exposures. This webinar was of relevance to allergy/immunology specialists, all clinicians and health care practitioners who see patients with pollen or mold allergy, and patient advocacy groups.
The presentations of approximately 60 minutes was to be followed by a Question and Answer session with the experts. You can view recordings here when they become available.
Some Fast Facts on Climate Change and Pollen Allergies
According to information from AAFA, between 2005 and 2011, warmer temperatures in the U.S. have the pollen season to be 11 to 27 days longer.
Grasses are the most common cause of pollen allergy.
Approximately 25 million Americans suffer respiratory allergies, and unchecked global warming will worsen their allergies.
There are approximately 10 million Americans with Allergic Asthma, and global warming could mean more asthma attacks for this group.
Ragweed allergy is the biggest contributor to the prevalence of Hay Fever (Pollen Allergies) in the United States, and ragweed pollen production is expected to increase by between 65 and 100 percent by the year 2085 – as a result of increased carbon dioxide in the air.
The Ragweed pollen itself may become more allergenic as carbon dioxide levels increase. A study found that the production of the allergenic protein in ragweed, increased by 70 percent when carbon dioxide levels were increased from current levels of about 385 ppm to the expected mid-century levels of 600 ppm.
World Allergy Organization Members Closer To You
The members of the World Allergy Organization include a few organizations focused on allergies, asthma and immunologic conditions in the U.S. Here are two of those organizations.
ACAAI – American College of Allergy, Asthma, and Immunology
To learn more about how Climate Change is likely to affect those with pollen allergies or related conditions, visit the world allergy organization's website at www.WorldAllergy.org
---
Alpha Allergy & Asthma Associates provides expert allergy relief for patients in Montgomery County, Prince Georges County, Howard County, and the DC metro area. Our expert allergists in Silver Spring see both adults and children, and may be able to offer you a same day appointment if you call now.
---