---
COVID-19 ALERT! SEE "OUR DAYS & TIMES HAVE CHANGED" …
AND "NEW VISIT RESTRICTIONS" SECTION BELOW
---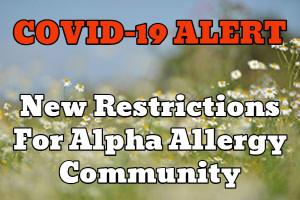 ---
Information Below:
---
---
What Is The COVID-19 or "Coronavirus"?
Coronavirus Disease 2019 (COVID-19) is a respiratory illness caused by a novel coronavirus, not previously encounted in humans before late 2019. Coronaviruses are a family of viruses that are zoonotic (transmitted between animals and people), and include viruses like the Severe Acute Respiratory Syndrome (SARS-CoV or "SARS") and the Middle East Respiratory Syndrome (MERS-CoV or "MERS"). The new coronavirus, that causes COVID-19, was first identified in an outbreak in Wuhan, China, and was originally identified as 2019-nCoV (novel coronavirus) or SARS-CoV-2 because it shares 70% of the genetic profile of the SARS virus.
Symptoms of Coronavirus Infection
According to information from the World Health Organization (WHO), common symptoms of COVID-19 include fever, respiratory symptoms, coughing, sore throat, shortness of breath (or breathing difficulties), pneumonia.
Potential Complications of Coronavirus Infection
In its more severe form, the infection can cause pneumonia, severe acute respiratory syndrome, kidney failure, and death.
Transmission/Infection Prevention Tips
Here are a few important infection or transmission prevention points to pay attention to.
Wash your hands regularly with soap and water for at least 20 seconds.
Use an alcohol-based hand sanitizer when soap and water are not available and/or hand-washing isn't immediately possible.
Avoid touching your face, particularly with unwashed hands. Be especially careful of the "T-Zone" around your eyes, nose and mouth, as these are the potential entry points of the virus.
Disinfect surfaces, instruments, door and equipment handles, and other frequently used objects and surfaces, particularly in common public areas. (See list of recommended products).
Cover your mouth and nose when coughing or sneezing to prevent potential spread of flu or COVID-19.
Avoid close contact with anyone showing symptoms of respiratory illness (coughing, sneezing) and avoid crowded places here in our local area for the time being.
Stay home from work, school, or other outings when feeling sick.
CALL AHEAD before going to doctor's offices, urgent care centers.
If you're experiencing life-threatening symptoms, call 9-1-1.
I hope you find these helpful as we all work together to minimize the spread of COVID-19 (Coronavirus).
---
NEW COVID-19 RESTRICTIONS & ANNOUNCEMENTS
FOR ALPHA ALLERGY PATIENTS:
APPOINTMENTS, CLINICAL VISITS, LOCAL (DMV) LINKS
---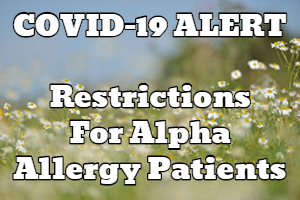 NEW: OUR HOURS HAVE CHANGED! See the listed details above.
ALPHA ALLERGY & ASTHMA ASSOCIATES HAS A TELE-MEDICINE (Virtual Video Clinical Visit/Appointment) CAPABILITY. You can take advantage of this if you have no insurance or technology restrictions. Call the clinic at 301-879-7700 or use our online appointment form for more TELE-VISIT or TELE-MEDICINE information.
If you need to be evaluated for strep throat or influenza (flu), contact your primary care provider.
CALL THE CLINIC PRIOR TO ANY CLINICAL VISIT IF:
YOU (OR ANYONE WITH YOU) HAS SYMPTOMS OF ANY RESPIRATORY INFECTION (e.g. cough/dry cough, fever, shortness of breath).
HAVE TRAVELED OUT OF THE COUNTRY RECENTLY, HAVE TRAVELED TO ANY OUTBREAK AREAS, OR ANY U.S. STATES (OTHER THAN MARYLAND) WHERE THERE IS CURRENTLY AN OUTBREAK OR DECLARED STATE OF EMERGENCY.
5. IF YOU HAVE A FEVER along with other respiratory symptoms listed above, we also RECOMMEND SELF-ISOLATING as much as possible for at least 14 days, until you are free of fever, signs of a fever, or any other symptoms (see above) for at least 24 hours without the use of fever-reducing or other symptom-altering medications. Contact the State Labs for information about getting TESTED For COVID-19 near where you live.
6. Wear a face mask upon your visit, if you're coughing or sneezing, BUT DO NOT display any signs of fever or shortness of breath. (You may request one depending upon availability).
7. If at any point you are in a life-threatening emergency, call 9-1-1.
---
FOR MORE LOCAL (D-M-V) CORONAVIRUS INFORMATION
---
If you are in severe respiratory distress, please call 9-1-1.

For non-emergencies, If you think you should be tested (based on your symptoms, travel, proximity to a person under investigation", or other combination of factors) and want to be tested, visit your local health department page or call listed resources below for guidance:
Montgomery County Health Department – You may also call the Montgomery County Department of Health and Human Services' Disease Control Office to speak with a nurse. The number is 240-777-1755.
Montgomery County Public Schools (MCPS) Coronavirus Page – Everything from Changes to the MCPS school calendar, to Remote Learning & Chromebook Distribution/Pick-up information to, Student Meals Service Locations, and more.
Montgomery Services (Volunteer Information) – If you want to volunteer to help in one way or another in Montgomery County during this time, this is the best way to get the information you need.
Washington D.C. Health Department – Washington DC Dept. of Health, Coronavirus portal. (See surveillance data updates here).
Washington DC Public Schools Coronavirus Page (DCPS)- For Washington DC Public Schools students and parents, information (in multiple languages), home learning resources and tips, meal distributions sites and times, updated school closing/opening information, remote learning support information, etc etc.
Prince Georges County Health Department – The Prince George's County Department of Health, Novel Coronavirus (COVID-19) update page. Call 3-1-1 in P.G. County if you have additional questions.
Prince Georges County Public Schools Coronavirus Info (PGCPS) – Information for students of the county public schools, their parents, and the staff, covering covid19 basics, PGCPS public schools calendar updates/information, meal sites information, and other relevant updates.
Howard County Health Department – Visit Howard County's Novel Coronavirus alerts and updates page.
Howard County Public School System (HCPSS) – The Howard County Public School System's main home page provides information and links to the HCPSS coronavirus page, to its remote learning plan and resources, as well as to student meal distribution information and other community and health-related resources.
State of Maryland Health Department – The novel coronavirus (COVID-19) information portal and updates page.
Maryland-Wide Meal Sites Map – This interactive map prompts you for your zip code, and to select a distance and then generates a list of meal distribution locations (along with times), as well as their location on the interactive map.
CDC (Centers For Disease Control) – The U.S. Centers For Disease Control Coronavirus information portal. The most authoritative source for public, national, novel coronavirus information for the public online.
Adventist White Oak Medical Center – The Adventist Healthcare System's coronavirus portal.
---
OTHER USEFUL WEBSITES or
RESOURCES FOR LATEST INFORMATION & UPDATES
---
World Health Organization (W.H.O.) COVID-19 Online Course – A free online course hosted on the Open WHO portal.
World Health Organization (WHO) Coronavirus Page – Information portal for coronavirus. World Health Organization.
CDC – Centers For Disease Control's Isolation & Quarantine Page – Get guidance from the CDC around isolation and quarantine preparedness.

Last Updated: April 16th, 2021