The National Cherry Blossom Festival is a famous springtime festival held annually in Washington DC. The story of the festival begins over 100 years ago in 1912 when the Mayor of Tokyo, gifted 3,000 cherry trees to the city of Washington DC. It was meant as a token of friendship between the United States and Japan. Over the years, re-enactments of the original events surrounding the gift evolved into "celebrations", and then into the current festival that spans 4-weekends, and is attended by over 1 million people each year.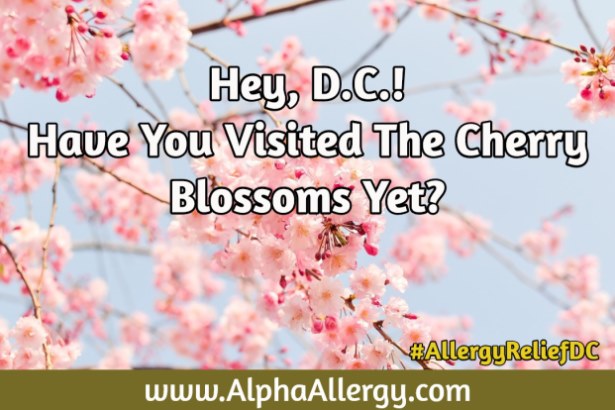 Below, you can find more detailed information on the 2016 National Cherry Blossom Festival.
This year's National Cherry Blossom Festival began on March 20, 2016 and ends on April 17th, 2016.
---
Key Events / Activities
---
Other than the traditional activity of walking the Tidal Basin to view the Cherry Blossoms – particularly at their peak – there are scheduled activities you could check out. They include:
The Official Opening Ceremony (Warner Theater) – March 26, 2016
Cherry Blossom Kite Festival – April 2, 2016
National Cherry Blossom Parade – April 16, 2016
There's a long list of events associated with the Festival and held throughout the Festival period. See this more extensive list of National Cherry Blossom Festival Events.
---
Allergies & 3,000+ Cherry Trees In Bloom
---
If you suffer from seasonal (spring) allergies, you might think that trees with flowers as colorful as those found in Cherry trees, would be more likely to trigger allergy symptoms, and that a visit to the Cherry Blossoms would be a no-no. In fact, flowering trees usually have larger and stickier pollens that are not as easily carried by the wind as others.
Having said that, if you suffer symptoms of spring allergies, you should consider talking to an allergy specialist. An allergist can help you determine if you have allergies, help you rule out other serious conditions, and help you determine the best course of allergy treatment for you.
Enjoy your spring, and don't hesitate to reach out to us. Don't let tourists have all the fun because of your allergy symptoms.
---
This article is part of the a continuing series in which Alpha Allergy & Asthma asks,
"Are You Going To Let The Tourists Have All The Fun This Spring?"
---
Call Alpha Allergy & Asthma at (301) 879-7700 for an immediate appointment with an allergist.
---