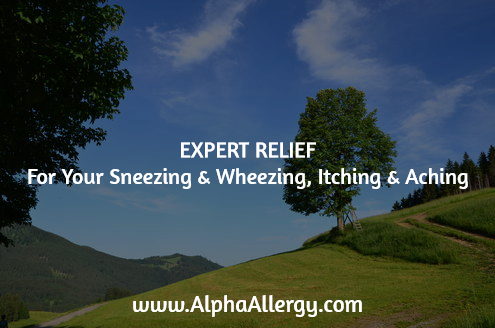 The first time anybody ever suggested I might have allergies was in May 2001. I had just reunited with my late father who lived in northeast Washington D.C. at the time. It didn't take long before he noticed me clawing at my eyes, sneezing, coughing and generally having a miserable time.
He said,
you might have allergies.
Since I'd never experienced seasonal allergies prior to that, I was highly skeptical. It turned out he was right.
Over time, I came to understand just how right he was.
Spring Allergies are seasonal allergies associated with the return of warm weather. As the weather warms up and the trees and grasses start to bloom, millions of people begin to suffer from allergy symptoms. Generally these are people who are allergic to tree pollen (early spring and spring), or who have grass pollen (late spring / early summer) allergies or, in some less common cases, mold allergies.
Pollen from trees, grasses, and blooming flowers disperse in the air during these warm days of spring and can make for a miserable experience for millions of people.
SYMPTOMS OF SEASONAL (SPRING) ALLERGIES
Spring allergy symptoms include eye allergy symptoms (itchy, teary, red eyes), nasal allergy symptoms (runny nose, post nasal drip, itching in the back of your throat), and other classic symptoms of hay fever (allergic rhinitis).
ALLERGY TREATMENT
Depending on your preference, after consultation with your allergist, you will have a few allergy treatment alternatives to choose from. They include:
Allergen (Allergy) Immunotherapy, also known as "Allergy shots".
Sublingual Immunotherapy (allergy pills)
Over-The-Counter Allergy Medication
Prescription Allergy Medications
Of the categories above, and the various options of allergy drugs within them, only Allergen immunotherapy goes beyond suppression of your allergy symptoms to actually make you less allergic over time.
Treatment for spring allergies (Montgomery County) In The Greater D.C. Area
One of the challenges of managing your allergies during the spring, is that of getting seen by an allergy specialist as quickly as possible. For people in Silver Spring, east Montgomery County, and parts of Prince George's County and Howard County, Alpha Allergy & Asthma Associates offers the perfect combination of expertise and availability for fast spring allergy relief.
Alpha Allergy & Asthma Associates is a medical practice located in Fairland (Silver Spring near White Oak), Maryland, within a 15-minute drive of Beltsville, Burtonsville, Colesville, Laurel, College Park, Olney, Layhill, Takoma Park, and Columbia.
Do you need fast relief from your spring allergy symptoms?
Call us at (301) 879-7700 or CLICK HERE to set up your allergist appointment today.  See you soon.
Save
Save
Save
Save
Save
Save
Save
Save