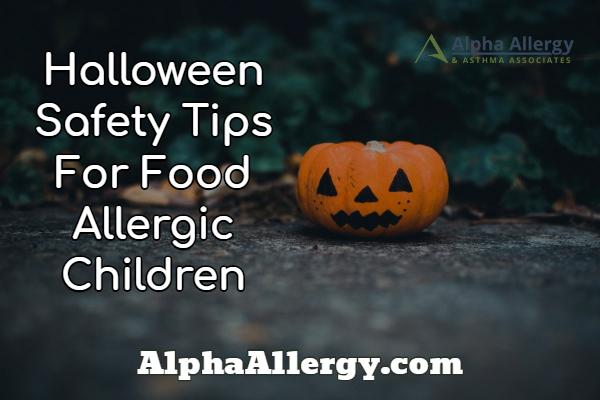 As Halloween is just around the corner, and families here in the Maryland/D.C. area plan their fun activities, we'd also like to share a few useful bits to help children with food allergies avoid risky behaviors that could lead to anaphylaxis, or allergy/asthma-related exacerbation.

In saying that, please note, however, that just because you have to be careful doesn't mean your allergic child can't take part in the fun – creating great memories around your family's traditional activities of the day.
Food allergy safety is just one consideration – albeit a big one.
Here are a few tips from our allergists to help you and yours have fun right along with others, and to have an anaphylaxis-free Halloween.
TRICK OR TREAT ACTIVITIES
Perhaps the biggest highlight of the day are the trick or treat activities – going from friendly door to friendly door with friends and/or family and having kind strangers provide one of the above options – usually most hosts default to a treat in the form of pre-packaged snacks – chocolate, candies, etc.
If you your child has food allergies, they're probably allergic to one of the types of foods listed below. And Halloween snacks are very likely to be represented on that list below.
So what does that mean for you?
No Trick Or Treating On Halloween?
It doesn't have to come to this. Some proactive people have signed on to be part of the Teal Pumpkin Project from F.A.R.E. (Food Allergy Research & Education) – raising awareness of the need to have allergy-friendly (non-food) treats for allergic trick-or-treaters. (See more below).
Alternatively, as a parent, depending on your available time – and the relationships – you could work with select neighbors ahead of time, working around a "Teal" or "Blue Flag" theme to cue neighbors that "Spiderman" or "Batman" or "Elsa" (the princess from the "Frozen" movie) in the Halloween costume has food allergies – when you come to the door.
ALLERGY-ASTHMA SAFETY TIPS FOR HALLOWEEN
I spoke to our Maryland allergists, Dr. D'Jahna Thomas and Dr. Nkiruka Erekosima, and here are a few more tips from our conversation around Halloween activities and allergy, asthma and sinus issues (or other upper respiratory symptoms) typical of this part of the fall season:
Dr. Erekosima talked about the need to make sure that you are on top of "knowing your allergens" or asthma triggers through prior allergy testing, and communicating them, so that you're empowered to freely celebrate Halloween and other end of year holidays – in a safe and healthy manner.
Dr. Thomas pointed out that there should be a "no-snacking" during the trick-or-treat outdoor activities, and all snacking should happen AFTER parents have checked all snacks, read all ingredient labels, and approved treats for consumption. She also mentioned that food allergic kids should ALWAYS have their "Epi-Pen" (or other Epinephrine Auto-injectors) close by in case of a food allergy emergency.
Our doctors also pointed out that outdoor late fall activities require some thought, not just around food allergy safety but for asthma, other outdoor allergies – like remnants of ragweed allergy season and of course, allergies to molds/fungus, and for preventing other upper respiratory symptoms (sinus problems, for example). So making sure that asthma is under control, and that kids in their costumes are warm enough as they go out, should not be neglected.
These are just a few precautions you can take to reduce the risks of serious problems on Halloween.
Don't forget to contribute to raising awareness as well, if you can.
The Teal Pumpkin Project is one example of a truly worthy cause that helps us all by making the world a little bit safer for our allergic friends and family members.
I mentioned above that I'd share the most common food allergies.
The 8 Most Common food allergies in the United States are:
milk/dairy,
eggs
peanuts
wheat
soy
tree nut
fish
shellfish
By proactively communicating with your allergic child, keeping to some simple guidelines, and communicating with neighbors and others, you can make this a fun, memorable and safe Halloween.
Here are a few other links and posts that you may find useful:
If you found this post useful, share it with your friends or others who have food allergies, asthma or deal with sinus problems. Particularly with your friends whose children battle food allergies, asthma, sinus problems.
Are you interested in more locally-focused (Maryland, D.C., Northern Virginia) content? or health/wellness related-content of this kind?
Subscribe to our Alpha Alerts Newsletter!

If you need a specialist for allergy, asthma or sinus related issues, feel free to set your first no-frills appointment to be seen at our Silver Spring medical clinic (Tele-medicine or e-visits are coming soon as well)!