This Spring Festival 2016 Calendar of Events covers not just events here in Silver Spring, but also other D.C. area cities and towns. We've curated a list of spring festival activities & events as part of Alpha Allergy's effort to encourage you and other members of our community to "Step Out This Spring".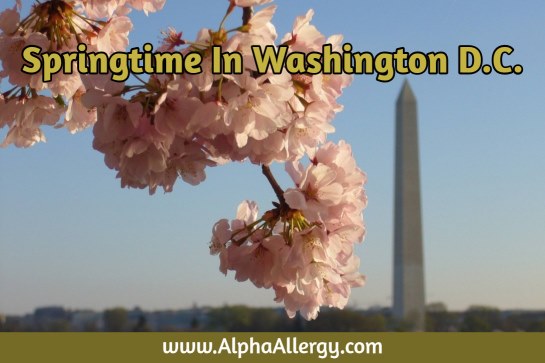 Most are family-friendly events that are:
Outdoor events or tied to an "outdoors" theme.
Spring-themed events or otherwise closely-associated with spring season.
---
2016 Spring Events In Montgomery County And Washington DC
---
National Cherry Blossom Festival 2016 – March 20th-April 17th, 2016 – The national cherry blossom festival is the nation's premier springtime festival and is attended by over 1.5 million people every year. Taking place across five weekends, celebrations include opening ceremonies, a kite festival, parade and much more (see festival site).


---

National Harbor Restaurant Week – March 21st – March 25th, 2016 – The National Harbor is a 300 acre waterfront destination in Prince Georges County, Maryland. Enjoy discounted 2-course and 3-course meals, from select restaurants at the harbor, and the opportunity for discounts to ride the capital wheel.


---

Six Flags America OPENING DAY & SPRING BREAK – March 25th – April 3rd, 2016 – Opening Weekend presented by Allegra (R) kicks of the season. Enjoy roller coaster rides, shows and activities, and restaurants.


---

Montgomery Parks 'History In The Parks' Season Opening Celebrations – April 1st – 9th, 2016 – Your introduction to historic tours, underground railroad experience trails, and many more deeply meaningful cultural and educational experiences. Season opener celebrations end on April 9th, but ongoing events continue. See official site here.


---

Bowie Baysox Opening Night , Bowie Md- April 7th, 2016, 6:35PM – The Baysox are the Baltimore Orioles' Double-A Affiliate in the Eastern League, coming off their first Championship season. Championship celebration will take place as the baseball team opens its 2016 season.


---

Bowie Green Expo, Bowie Maryland – April 9th, 2016 – This free family event includes live entertainment, puppet shows, electric car displays, and 49+ vendors showcasing environmentally-friendly products and services. It takes place at the Kenhill Center in Bowie, from 12:00 Noon to 4pm.

---

Black Memorabilia Show – From Sat. April 9th, 2016 10-7, through to Sunday April 10th, 2016 10-5pm at the Montgomery County Fairgrounds in Gaithersburg, Md. Vendors from across the United states will be presenting black memorabilia, artifacts and collectibles, including slavery artifacts and documents, stamps, toys, posters, and much more.

---

Sugarloaf Crafts Festival – Montgomery County Fairgrounds, Gaithersburg, MD | (April 15 – 17, 2016) – Featuring interactive demonstrations by master craftspeople, arts and crafts displays by top artisans, children's entertainment, and a whole lot more.


---

Southwest Waterfront Fireworks Festival (April 9th, 2016; 1-9PM) – Enjoy more than eight celebratory hours of free music, family friendly water-related activities, cultural experiences, live entertainment and delicious foods at multiple outdoor venues at the Southwest Waterfront.


---

National Cherry Blossom Festival PARADE – April 16th, 2016, 10am – Noon – The National Cherry Blossom Festival Parade runs for 10 blocks along Constitution Avenue, features colorful helium balloons, decorated floats, marching bands, performers and celebrity entertainers. Don't miss the pomp and pageantry of the nation's premier springtime parade.


---

Family Fun Fest – April 10, 2016 (Noon to 5pm) – at Washington Adventist University, Takoma Park, Maryland – A family-themed event, the day features live music, food from local restaurants, and children's entertainment. Parts of the program are also dedicated to community safety, education, and wellness.


---

Truckeroo DC – April 15th, 2016 – 11am to 11pm – Held at the Half Street Fairgrounds at the corner of Half Street & M Streetin Washington DC, Truckeroo DC is a monthly festival showcasing 20+ food trucks from the DC area.


---

Decanter Wine & Racing Festival at Laurel Park, Laurel, Maryland – April 16th, 2016  – Sample a variety of Maryland wines while enjoying local food, music, artisans, … and the races, of course! Over 23 Wineries are expected to be in attendance. See more.

---

Leesburg Flower & Garden Festival – April 16th – 17th, 2016 in Leesburg, VA – It's not just about flowers – or gardening. Take in the endless variety of the festival – from exotic flowers, to food, music, and a "children's area".  There'll be a landscape competition, as well as craft and garden exhibits from over 130 vendors and craftspeople.

---

The Sakura Matsuri: Japanese Street Festival  – April 16th, 2o16 from 10:30am to 6pm – The last event of Cherry Blossom Festival. Slated to be held – "rain or shine" – right after the Cherry Blossom Festival Parade, the Sakura Matsuri is a celebration of Japanese culture, through cultural performances, food, and experiences. It will be held in the Capitol Riverfront neighborhood, and is presented by The Japan-America Society of Washington DC.


---

Pirate Fest – at Lake Fairfax Park,VA – April 16th, 2016; 11am to 4pm – A celebration of Virginia's seafaring past. Fun activities include the Pirate Boat Tour, racing in the Raingutter Regatta, participating in the Treasure hunt, sailing, science, and craft activities. Enjoy music and food as well.


---

Bethesda Row Restaurant Week – April 18th – 24, 2016 – During Bethesda Row Restaurant week, some Bethesda Row Restaurants will be offering 3-course lunch for $17 dollars, and 3-course dinners for $32. Enjoy cuisine from participating restaurants at one of Bethesda's premier shopping.


---

Kids Ultimate Fitness Challenge D.C. – Fairfax, Virginia – April 23rd, 2016; 10am – 6pm – At this physical fitness-themed event, kids get to participate in an obstacle course challenge, and tons of other fun activities. There are also activities for people of all ages.


---

The Spring Display at Brookside Gardens (Last 4 Days), Wheaton, Maryland – April 7th to April 10th, 2016 – The Brookside Gardens is a 50 acre public display garden in Montgomery County made up of several garden areas. Nothing says "Spring is here" quite like the Spring Display at the Brookside Gardens conservatories. There are two conservatories and admission is free.


---

Columbia Festival of The Arts (Spring Festival 2016) – April 8th to April 24th, 2016 – Columbia Town Center – A wide variety of events including a student film festival, lectures, cultural events, poetry, a salsa night, and more.


---

Art Hop Arts Fest in Takoma Park, MD – April 9th – 10th, 2016 – The shops, restaurants, galleries and streets of Takoma Park, MD-DC open up for over 99+ artists to showcase their talents. From local artist displays, to music, children's art performances, dance, fire shows, and more. https://twitter.com/MainStTakoma


---

PorchFest 2016 – Rhode Island Ave. NE – April 16th, 2016 – Local musicians play FREE mini-concerts for visitors and the community, on the porches and stoops of local businesses and residences.


---

National Scrabble Day at Montgomery Parks – April 16th, 2016 – Here's information from Montgomery Parks – "

Celebrate National Scrabble Day with Montgomery Parks! Stop by Elm Street Urban Park, Woodside Urban Park or Fairview Urban Park on Wednesday, April 13 anytime between 10AM to 4PM and challenge a co-worker, friend or fellow park user to a friendly game of scrabble! Scrabble games will be on hand at each park, but visitors are encouraged to bring their own games as well. Don't worry if you can't stay for long…we'd love to see you even if you can only play a tile or two! Visitors to Elm Street Urban Park may even see Planning Board Chair Casey Anderson challenge local Delegates, Council members and celebrities to a friendly game of Scrabble. See who comes out the Scrabble champion!

Category: Community Events.

Age: Kids. Teens. Adult. Seniors. Family.

Area: Bethesda/Chevy Chase. Silver Spring.

Contact Name: Abbigail Irelan.

Contact Phone: 301-495-2532.

Contact Email: abbigial.irelan@montgomeryparks.org.

Cost: FREE.

Wednesday, April 13, 2016, 10:00 AM – 4:00 PM.

Elm Street Urban Park: 4600 Elm Street, Bethesda, MD 20815 Woodside Urban Park: 8800 Georgia Ave Silver Spring, MD 20910 Fairview Road Urban Park 8900 Fairview Road Silver Spring, MD 20910.

For more info visit www.montgomeryparks.org."


---

National Harbor Wine & Food Festival – April 23rd – 24th, 2016 – D.C.'s hottest restaurants and food trucks accompany 150+ international and local wines, beers and spirits in an all-you-can taste event. There will also be cooking demonstrations and appearances by locally, regionally, and nationally recognized chefs.


---

MONUMENTS BY MOONLIGHT (at the National Mall) – April 23rd, 2016 (8:00pm) – 

Monuments by Moonlight sneaker hike, as featured in the Washington Post, is a scenic 4-mile hike focusing on the scenic and majestic memorials near the Tidal Basin and parts of the National Mall. Some sights and monuments visited include: the Washington Monument, the Thomas Jefferson Memorial, the Franklin D. Roosevelt Memorial, the Korean War Veterans Memorial, the Abraham Lincoln Memorial, the Vietnam Veteran's Memorial, and the World War II Memorial.




---

Brookside Gardens Earth Day Festival – April 24th, 2016 (12:00 to 4:00pm) -Walks, tours, activities, and a craft & vendor fair, are among the highlights of this program marking Earth Day. There's also a musical concert scheduled. Celebrate Earth Day with Montgomery Parks.


---

2016 Kingman Island Bluegrass & Folk Festival – April 30th, 2016 – The 7th year of the festival, a celebration of spring and of D.C.'s natural beauty. Enjoy food, drinks and music, and all the "sounds" and "sights" that Washington D.C.'s signature folk festival has to offer.


---

Maryland Day – April 30th, 2016 10am – 4pm – College Park, MD –  A great day for the family on the campus of the University of Maryland in College Park.  Enjoy food, music, interactive, fun, events for all ages. Watch the Gymkana acrobatic and gymnastics troupe, and participate in obstacle courses. Choose from among 400 events over the 6 hours. 75,000 visitors attended last year's event. Free Shuttle UM service all day takes you from one part of the campus to another. Don't miss the fun! Watch the teaser video here. – https://youtu.be/FHWFLW0Dhuw 


---

Montgomery County Green Fest – April 30th, 2016 (11am to 4pm) Takoma Park, MD – Over 2 blocks of exhibits (over 80 vendors represented), music, films, workshops & lectures. Catered lunch will also be available from Montgomery College's caterer, Chartwells.


---

National Cinqo De Mayo Festival – May 1st, 2016 at the NATIONAL MALL – A family festival organized by the Maru Montero Dance Company and LULAC will be free to the public. Live performances will include top names in local Latino talent, like: A.B. Quintanilla, El grupo Escalante, Bio Ritmo Salsa Band, etc. Held at the National Mall.


---

Fiesta Asia SILVER SPRING – MAY 1st, 2016 – Fiesta Asia Silver Spring brings together the diverse Asian cultures on one street where participants can experience the  richness of the arts and tradition the region has to offer.  The event is free and open to everyone. From music to dance; from martial arts to crafts; from food to shopping;  Fiesta Asia has it all.


---

4th Annual Taste of Adams Morgan – May 3rd, 2016 | 5pm – 9pm – Adams-Morgan is one of Washington D.C's most vibrant and iconic neighborhoods. Over 20 restaurants in the neighborhood are participating in this culinary event, providing tastings to attendees. The proceeds will benefit Mary's Center.


---

Flower Mart at National Cathedral – May 6th – May 7th, 2016 —  http://www.culturaltourismdc.org/portal/passport-dc1


---

Around The World Embassy Tour – May 7th, 2016 – More than 45 embassies open their doors to visitors. Experience food, art, culture, dance, products and more from the countries represented. Participating embassies for 2016 are: Afghanistan, African Union, Argentina, Azerbaijan, Bahamas, Bangladesh, Barbados, Belize, Botswana, Brazil, Chile, Colombia, Dominican Republic, Gabon, Ghana, Guatemala, Haiti, Indonesia, Kenya, Korea, Kosovo, Libya, Mexico, Mozambique, Nepal, Oman, Pakistan, Peru, Saudi Arabia, Sri Lanka, Uruguay, and Venezuela.


---

Manassas Air Show – May 7th, 2016 10am – 4pm – Manassas, VA – Aerial displays, and aircraft exhibitions, the Freedom museum, as well as Military re-enacters, are some of the attractions you can look forward to at the Manassas Air Show.


---

VinoFest DC Wine and Music Festival 2016 – Saturday, May 7, 2016 | 3pm – A wine and music festival in Washington D.C., VinoFest 20+ vineyards, DC craft brews, local music acts in concert, and food from some local establishments. Festivities last from 3pm to 10pm.


---

2016 ShortCut To Europe: European Union Embassies Open House – May 14, 2016 (9:00 to 4:00pm) – Participating embassies from the European Union open their gates and welcome in visitors to experience the food, art and culture of their countries. Enjoy the experience of visiting 28 countries, without leaving Washington DC.


---

Mount Vernon's Spring Wine Festival & Sunset Tour – May 13th – May 15th, 2016 – Sample wines from 20 of Virginia's finest wineries, enjoy live music and perhaps a brilliant sunset from the East lawn of George Washington's home – Mount Vernon.


---

Bethesda Fine Arts Festival – Bethesda, MD – May 14th – May 15th, 2016 – This free festival features over 130 artists, entertainment, a live entertainment stage, and local food vendors.


---

Free Outdoor Concert -Watkins Glen Summer Jam – May 14th, 2016 – Starting from Noon and lasting until 6pm, the free part of the day's activities feature an outdoor concert, great food, and a farmer's market to accompany the great music.


---

National Parks BioBlitz – May 20th – 21st, 2016 – Rock Creek Park is one of 100 National Parks participating in the "National Parks BioBlitz". The Bioblitz is advertised as a citizen science extravaganza – a 24-hour event in which teams of students, scientists, teachers, and families, team up to identify species of plants, animals, and other organisms in a participating park location.


---

Zoofari (By Friends Of The National Zoo) – May 19, 2016 – 6:30 to 9:30 PM – More than 100 of the area's top restaurants are expected to be represented in this event of food, wine, celebrity chefs, and wildlife at the National Zoo.


---

Bark In The Park – Gotham Arena, Six Flags Largo, Md – May 20th – 22nd, 2016 – A particular delight for dog lovers. It's a high energy dog competition, featuring stunts dogs performing amazing feats. Probably not for you if have

uncontrolled pet allergies

. If you need help for a dog / pet allergy, consider visiting Alpha Allergy in Montgomery County, Md.


---

DC Dragon Boat Festival  – May 21-22, 2016  – A two-day festival along the Potomac river in Washington DC. While the centerpiece of the event is the dragon boat racing event, many other fun cultural activities round out this annual celebration. They include craft exhibitions, cultural demonstrations, and food.


---

2016 Montgomery County Spring Fair – May 16 – May 25, 2016 (Evenings at Ace Field. and all day Saturday in Burtonsville, MD) – Bring your family and celebrate spring! Enjoy carnival rides, food, artisan goods, activities,  live music, the Strawberry festival, and more.


---

Spring Festival – Art, Music, and Food at Cathedral Commons – May 14th, 2016 – This spring Festival will close Newark Street to traffic, and transform Cathedral Commons and the Cathedral Heights neighborhood into a hive of activity, food, music, art, and family-friendly activities.


---
These are a few of the spring festivals & events we have curated as part of the "Step Out This Spring" campaign where we encourage you to take full advantage of the Washington area's natural and cultural resources this spring. If you need to, seek spring allergy relief from our specialists so you don't have to sit on the sidelines while the tourists have all the fun.